Hooray. By working in 5-10 min increments between toddler and newborn I have finally finished my first Soft Structured Carrier! Here is a pic: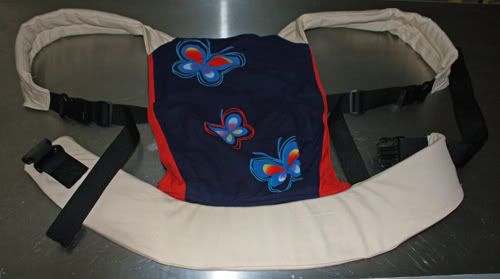 I love it! It is so comfy. I had Ned on my back for half an hour or so yesterday and he didn't feel heavy at all! He was a great tester (I was a bit worried how the sewing would hold up but it has done well). I need to try Isla in it but I think she may be a bit small for it yet, but at least I know it works and I have another option for Ned in the meantime. I am even thinking about making another one as I have heaps of material and Matt tried this one out yesterday and he thought it was good (just not very manly with the butterflies :). So I would make a more unisex one or one with an interchangeable panel. Anyway, it is lovely.
I am making a new "bed" (a covered matress) for Ned next so I will post some pics of that when I have finished.
I had made my nephew a scrapbooked letter for his bedroom door for his baptism but I forgot to take pics (oops) but I was very pleased withhow it turned out! I have also been doing a bit of knitting (check out ravelry).
Must dash...